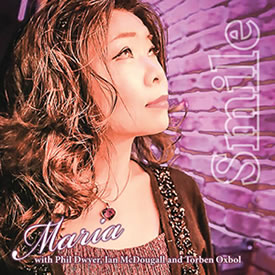 Maria Ho's second album Smile features another collection of beautiful songs with full and lush arrangements by Torben Oxbol, a graduate of The Royal Danish Conservatory of Music in Copenhagen.
In addition, the second album features the acoustic arrangements of Phil Dwyer, a JUNO award-winning saxophonist, pianist, composer, arranger, and Member of the Order of Canada.
Ian McDougall, featured on "You And The Night And The Music," is a JUNO award-winning trombonist, composer, arranger, best known for his work with Rob McConnell's Boss Brass, where he was the lead trombone and soloist for 20 years.
Have a listen to tracks of Maria's new album "Smile"
Somewhere In The Hills
Estaté
Isn't This A Lovely Day
For The Love Of You
Smile
With a smile in her voice, Maria's impeccable articulation and precise diction captivates and enchants audiences through a musical breeze of standards, sambas and bossa novas. Inspired by Shirley Horn, Nat King Cole, Ella Fitzgerald, Nancy Wilson and Freddie Cole, Maria's engaging and spellbinding stage presence will uplift your mind and brighten your day. Maria treats every song like a painting, drawing from her own interpretations of these timeless songs to connect with the listener.
Maria has performed at grand openings, receptions, customer appreciation, recognition events, music festivals, and community events including Dish n' Dazzle, The Urban Tea Merchant and the Vancouver Christmas Market at the Queen Elizabeth Theatre Plaza. During the Vancouver Jazz Festival, Maria and her trio performed on Canada Day, along with the release of her debut album Where or When. During the summer, Maria and her trio performed at the jazz festival, held at Granville Island.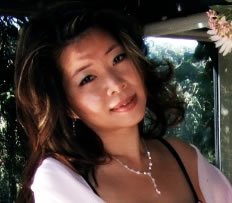 Maria has recorded with Phil Dwyer, Richie Cole, Warren Vaché, George Robert and Krishna Booker. Her album Where or When consists of 13 songs beautifully arranged by Torben Oxbol. The songs are receiving radio airplay on The Penthouse Radio in New York. "Just a Touch" was chosen as bumper music on Coast to Coast AM. Songs from the new album were also featured on WAMC/Northeast Public Radio, CBC's Hot Air, Saskatchewan Weekend and DR P8 Jazz in Denmark. The album is also being featured every Saturday morning on KUVO, 89.3 FM, Breakfast Jazz in Denver, Colorado. Her latest singles, "Poinciana" and "The Things We Did Last Summer" are receiving radio airplay in New York, as well as on CBC Radio in Thunder Bay, Kitchener-Waterloo and Windsor, Ontario.
"Where or When" was featured on The Power of Independence: Volume 2 (April 2013). With contributions from almost 2,000 artists from around the world, Maria's song was chosen for this compilation. "Little Boat/Day By Day" appeared on Valentine's 2013 – A TuneCore Artist Compilation on Amazon MP3 U.S. Among 1,100 artists, Maria was one of 28 chosen for this compilation.